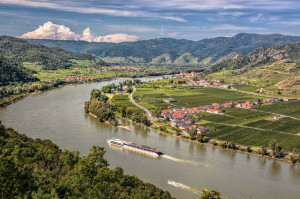 It's no secret that we LOVE cruising. All the benefits of an all-inclusive vacation, with the luxury of seeing new sights and never needing to change hotel rooms! But river cruising has a particularly special place in our hearts. Here are a few reasons why you should give this wonderful and intimate experience a try:
Explore new destinations
Humanity has looked to waterways to both supply and connect cities for thousands of years. That still holds true today, with some of the world's most amazing sites located right along the banks of major rivers. The smaller size of river cruise ships allows guests to penetrate deeper inland to see the heart of some of the greatest countries and cities in the world.
More intimate experience
Speaking of ship size, it's one of the things we love most about river cruising! Most ships hold about 200 passengers, making it a truly intimate experience. While we love a good megaship with all it offers, the focus on a river cruise is on the destinations themselves. You can also make new friends, both with the staff and your fellow passengers. And excursions are incredible! You'll be in a small group and able to ask questions, take time to explore, and appreciate the ease of logistics with a smaller group.
New discoveries daily
River cruises tend to have more ports of call than their ocean siblings, which means that you'll get to experience something new nearly every day! The short distance between destinations means you get to enjoy the time on the water with scenery floating by, but are ready to hop ashore to a new adventure before it becomes dull. And with many UNESCO World Heritage sites located right along rivers, it's a fantastic opportunity to see the wonders of the world!
No need for a guidebook
River cruises not only take you to amazing sites, but they help you take an in-depth exploration of them, with staff who can help you explore. Join the included guided tour, or, if you'd rather venture off on your own, they can provide you with suggestions and tips to help you explore independently. Either way, you'll get to explore the sites armed with more knowledge than you'd ever find in a guidebook!
River cruising truly is a dreamy way to travel, and we think you'll be hooked once you give it a try! We can help you pick the perfect destination — from the Nile to the Danube to the Mississippi! There truly is a river cruise for every interest and destination.