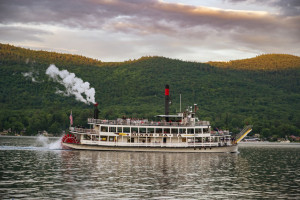 When you hear the words "cruise vacation," what comes to mind? Turquoise seas? Palm trees? Snorkeling? How about New Orleans jazz? If that last one wasn't on your list, it's time to add it! Experience a unique vacation and take in all the charm and allure of the southern United States cruising in luxury along the Lower Mississippi River. From the historic cities and cultural landmarks to the serene natural beauty and captivating wildlife, a river cruise along this iconic waterway is the ultimate way to explore the heart and soul of the Deep South.
Why a river cruise is the best way to explore the Lower Mississippi
A river cruise is the perfect way to explore the Lower Mississippi River, offering a unique and immersive experience that cannot be matched by other forms of travel. You will enjoy stunning panoramic views of the river and its surrounding landscapes while also having access to top-notch onboard amenities such as gourmet dining, live entertainment, and interesting history about the region's history and culture from experts. Additionally, river cruises offer a more intimate and personalized travel experience, with smaller ships and fewer passengers that allow for more individual attention and a more relaxed atmosphere.
Top destinations to visit on a Lower Mississippi River cruise
A river cruise along the Lower Mississippi offers an incredible opportunity to visit some of the region's most fascinating and beautiful destinations. New Orleans, Louisiana, is a must-visit for its vibrant nightlife, live music, and delicious cuisine. The historic Natchez, Mississippi, known for its small-town hospitality, offers a glimpse into the antebellum era, with a number of well-preserved mansions and other historic sites open to visitors. Other notable stops include Baton Rouge, Louisiana, with its stunning state capital building and impressive museums, Memphis, Tennessee, known for its rich musical heritage and the iconic Graceland estate, and St. Louis, Missouri, with its breathtaking view of the Gateway Arch.
The perfect cruise for foodies
Foodies will delight in the cuisine of the Lower Mississippi River region, with its unique blend of Creole, Cajun, and Southern flavors. A river cruise offers a chance to savor these culinary delights, with onboard chefs preparing delicious dishes using locally sourced ingredients. Expect to indulge in fresh seafood, spicy jambalaya, smoky barbecue, and sweet pecan pie, among other delicacies.
The perfect cruise for nature lovers
The Lower Mississippi River is teeming with wildlife and natural beauty. Keep your eyes peeled for sightings of bald eagles, alligators, otters, and a variety of fish and bird species. The river also offers stunning views of the surrounding landscapes, from the lush forests and wetlands of the Mississippi Delta to the rolling hills and bluffs of Tennessee and Arkansas.
Off-ship excursions
A river cruise along the Lower Mississippi offers a variety of off-ship excursions that allow you to explore the region's rich culture, history, and natural beauty. Popular activities include visits to historic landmarks, wildlife watching, enjoying live music (bluegrass, anyone?), or even a Cajun cooking demonstration. You can also opt for more active pursuits such as hiking, biking, and kayaking, or simply relax on shore and take in the local scenery.
The benefits of small-ship river cruising on the Lower Mississippi
One of the biggest benefits of small-ship river cruising on the Lower Mississippi is the ability to access ports that larger vessels cannot. This means you can explore the region's hidden gems and lesser-known destinations, providing a more authentic and unique travel experience. Small ships also offer a more intimate and personalized experience, with fewer passengers and a higher crew-to-guest ratio, resulting in more attentive service and a relaxed atmosphere. Additionally, smaller ships are more nimble and can navigate narrow waterways and shallow channels that larger vessels cannot, providing access to some of the region's most breathtaking scenery and wildlife sightings.
Planning your perfect Lower Mississippi River cruise itinerary
When planning your perfect Lower Mississippi River cruise itinerary, it is important to consider your personal interests and preferences. A travel advisor at Creating Magic Vacations can help you choose an itinerary that suits your needs, with a variety of shore excursions and onboard activities to choose from. You may want to focus on historic landmarks and cultural experiences or prefer to immerse yourself in the natural beauty and wildlife of the region. Depending on your interests, you can also choose a themed cruise, such as a music or food and wine cruise, to enhance your experience. It is also important to consider the time of year you plan to travel, as weather conditions and seasonal events can impact your itinerary.
If you are ready to experience the charm of the Lower Mississippi on a river cruise, then let Creating Magic Vacations help you plan your perfect vacation today. Our travel advisors are experts in planning unique and unforgettable river cruise experiences, and we can help you find the perfect itinerary to suit your interests and preferences. Visit our website to learn more about our river cruise packages and start planning your dream vacation today. Don't wait to experience the beauty, history, and culture of the Lower Mississippi River – book your river cruise vacation now and create memories that will last a lifetime.