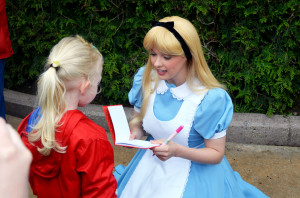 Whether it's a warm hug from a favorite furry friend or watching your little princess walk hand-in-hand with her princess idol, there is no question that meeting Disney characters creates core memories.
But while the commercials make it look like you can simply stumble upon your favorite characters on every corner, there is usually a bit more to the process. Here are our top tips for making those magical memories:
Know who is available
You don't want to promise your kiddo that they'll get to see their favorite character, only to arrive and discover that they aren't meeting guests! Do a bit of prep work in the Disney apps to see who will be available during your trip. It often takes characters quite a while after their movie or show comes out to make an appearance. Check the map and what times your character is meeting to make sure you are there at the correct time. A little detective work on your part will make sure you can deliver on that promised hug!
Prep your kids before you arrive
There's a big difference between the Mickey Mouse on your TV and seeing him in real life! Some small children can be overwhelmed by the size of characters. You may also want to explain to them that not all characters can talk. "Face" characters such as the princesses or Peter Pan wear clothing-like costumes, allowing them to talk and sign autographs with ease. For "fur" characters, it's a bit harder. These folks — think Mickey and friends, Winnie the Pooh's crew or most of the Pixar pals — are in full suits that cover their face and hands. They are still wonderful at communicating through gestures, but won't be able to carry on a full conversation.
Go beyond "Say cheese!"
Photos are obviously an important aspect of meeting characters, but they are only part of the fun! Each family is given some time with their new friend, so use it! Strike up a conversation, ask a silly question, or even just play peek-a-boo. We particularly love chatting with the characters and asking them questions. They are so good at playing the role, you'll find yourself delighted with their answers! (Our favorite example: If you see Flynn Rider, ask to see what is in his satchel!) Engaging a bit can really take the whole interaction to the next level!
Be respectful
As much as we'd love to tell you that you'll just magically happen upon an amazing character experience as you wander through the park, the reality is you are probably going to have to wait in line. And sometimes, it's a long one. But we promise it will be worth it! Be patient and kind, and remember that characters do need breaks every now and then.
It's also very important to respect character's personal space and treat them with kindness. Don't let kiddos run up behind an unsuspecting Chewbacca hoping for a hug, only to land in a heap with a headless Chewy! Fur characters have very limited vision and have a special handler to help them know when guests are approaching. And if you are thinking of flirting, make sure you keep it rated a solid G and keep your hands to yourself! Guests have been removed from the parks for feeling up Gaston's muscles or Ariel's sea shells.
Bring something to sign
Collecting autographs is just as much fun as collecting character photos! Bring along an autograph book and some chunky markers (they're easier for furry hands to hold than a pen!) Or, if a book isn't your style, you are welcome to bring something else to sign! Popular items include T-shirts (make sure you have something hard underneath, like a piece of cardboard, to make it easier. And make sure you aren't WEARING it!), photo mats, books or encyclopedias of characters … just about anything that will take a marker will work!
Getting to meet your favorite character truly is a magical moment and not to be missed. If you need some help figuring out where your favorite is greeting guests, just let us know. We'd be happy to help you track them down!