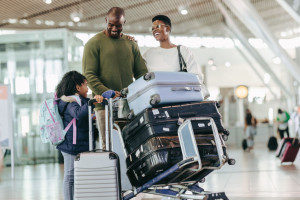 How much should you spend on a suitcase? Our answer is always going to be the same: as much as you can.
That might sound like we're urging you to throw your money away, but hear us out. Quality luggage really is worth the investment, and will likely end up paying for itself many times over the course of a lifetime of travel. It is worth it, in our opinion, to spend top dollar on a premium set that will last.
Anyone who has ever had a wheel break off a suitcase knows it is no fun to be stuck hauling that brick around. It adds so much stress to your vacation. Your luggage is likely the most important thing you'll be taking with you on any trip. It is worth it to have a piece — or a full set — that will keep rolling smoothly through all your adventures.
Here's an example that happened to one of our traveling companions on a recent trip. She had purchased a piece from a mid-range department store for around $40. It seemed like it would get the job done, so she packed it up for a 10-day trek around Thailand. Unfortunately, it lost a wheel on the first flight – a layover in Manilla. She had to retrieve the luggage and haul it through the Philippine security check. Then she had to retrieve it again in Bangkok and deal with it constantly falling over as she changed money and bought a new SIM card for her phone. When it came time to walk through the giant airport to her ground transportation, it became apparent that the duffle bag she had planned to stack on top wasn't going to work. She ended up having to carry both heavy bags, and schlep them through the whole trip, unable to ever roll the suitcase.
Now it's true that luggage used to be much more of a risk. Airlines were more likely to lose it or misplace it, and it could even end up stolen. But with today's tracking technology — both through the airlines and through personal tracking tags — those fears are are much less of a worry.
So, ready to make the jump? We have a few brands we recommend. Our top pick is Briggs and Riley, which offers a lifetime guarantee — even if the airline is responsible for the damage. If you want to travel like flight crews, their trusted favorite is Travelpro. You've probably seen groups of pilots and flight attendants rolling these through the airport! Celebrities tend to favor luxury brand Rimowa, so if you want to embrace your inner A-lister, that might be the brand for you.
Whatever brand you pick, we promise you won't regret making this investment. It is worth it for the peace of mind and ease of travel. And everyone needs less stress on vacation!