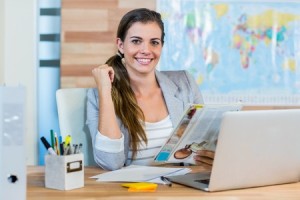 In an era defined by digital platforms and a seemingly endless well of online resources, it can sometimes feel like we're in the age of Do-It-Yourself (DIY) travel planning. Many people may wonder, "Why use a travel agent when I can just book my vacation online?"
But the hidden value of travel agents extends far beyond the realm of booking. Picture this: vacation planning devoid of stress, perfectly customized to your family, and perhaps most surprisingly, a service that doesn't cost you a dime extra — yes, working with a travel agent at Creating Magic Vacations is FREE.
Keep reading to see our top 5 reasons to use a travel agent when planning your next vacation.
1. Saving precious time
Consider the typical steps involved in planning a vacation on your own. You must scour multiple websites for the best flight deals, meticulously compare hotel options, read countless reviews, research local attractions, and create an itinerary that aligns with your interests. Then comes the process of booking everything, which can involve navigating confusing reservation systems and making payments securely.
Now, imagine all those time-consuming tasks taken off your plate. When you work with a travel agent, they handle the research, the comparisons, and the bookings for you. They've already cultivated relationships with airlines, hotels, and tour operators, often gaining access to exclusive deals and discounts. This means you not only save hours but also potentially benefit from cost savings you wouldn't have access to as an individual traveler.
2. Stress-free vacation planning
Choice overload, FOMO, logistical nightmares, unpredictable weather, and travel conditions — these are all components that would stress anyone out!
Luckily, travel agents can completely alleviate that stress! First, you'll get a tailored itinerary because your agent will take time to get to know you, your preferences, and your travel style. Many travel agents also have exclusive access to deals, special promotions, and insider knowledge that can enhance your trip while keeping it within your budget. They'll also reduce the overwhelm and decision fatigue that can come from the sheer number of choices you have to make when it comes to planning a vacation. Lastly, you'll get real-time support in the case of unforeseen events or emergencies during your trip.
3. The power of personalization
One size rarely fits all, especially when it comes to travel. Your dream vacation isn't just a random destination; it's an experience uniquely crafted to match your interests, preferences, and desires. This level of personalization is where travel agents truly shine, and it's one of the most significant hidden values they bring to the table.
Before planning, a travel agent will take the time to understand your vision for the trip and your particular interests and travel style. Travel agents often have insider knowledge about the best-kept secrets at your destination. They can recommend hidden gems, unique experiences, and local eateries that cater to your tastes. And because life is unpredictable and plans sometimes need to change, travel agents can build flexibility into your itinerary, allowing you to adapt on the fly without sacrificing the quality of your experience.
4. Build a lasting relationship
Travel agents aren't simply focused on one vacation; they aim to build enduring relationships with their clients so they can continue to help plan dream vacations. Agents are great at maintaining open lines of communication, checking in with clients before, during, and after their journeys, and welcoming feedback so they can refine their service for your next vacation! Plus, as a travel agent gets to know you and your family better, they can suggest destinations and experiences that align perfectly with your evolving interests.
5. No extra fees — working with a travel agent at Creating Magic Vacations is FREE
One of the most persistent myths about travel agents is that their services come at a hefty price, causing many travelers to opt for the DIY route instead. However, this is far from the truth. In fact, one of the most compelling reasons to work with a travel agent is that their expertise and assistance often come at no extra cost to you.
Travel agents earn their commissions for the expertise and value they bring to the booking process. They invest time in understanding your needs, researching options, making recommendations, and handling all the logistics to ensure a smooth trip. This compensation model allows you to benefit from their knowledge and experience without incurring any additional charges. Plus, they have access to exclusive deals and promotions and are expert budgeters, helping you get the best value for your money, no matter what your budget is. They can also help you avoid costly mistakes that are common when going with a DIY vacation planning approach.
Need help planning your next vacation? Let's chat!
Travel agents are the architects of stress-free travel, the curators of unforgettable experiences, and the guardians of your peace of mind. And their expertise and assistance come at no extra cost to you!
If you're dreaming of your next vacation, reach out to us at Creating Magic Vacations! We're happy to talk with you about your trip, whether you're only just starting to plan or are ready to start booking! Visit us online today: https://heather.social5.net/