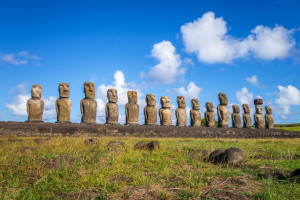 If you've ever yearned for a travel experience that combines high-end comfort with the thrill of exploration, a luxury expedition cruise may just be your dream vacation! Luxury expedition cruising, or Luxepedition as we're calling it, is a distinctive way to traverse the globe, offering a tantalizing blend of high-end experience and immersive discovery into one unforgettable voyage.
Whether you're a seasoned traveler looking for your next adventure or someone curious about this unique form of travel, join us as we dive deep into the heart of Luxepedition.
Why choose luxury expedition cruising?
1. Luxepedition offers unparalleled opportunities for exploring our world in a completely intimate and immersive way. Imagine waking up to breathtaking vistas of remote landscapes, far from the well-trodden tourist paths. Luxury expedition cruises grant you access to some of the world's most pristine and hard-to-reach destinations.
2. You're exploring the untamed corners of the world; you don't have to sacrifice comfort. Luxury expedition cruise ships are designed to provide a comfortable haven of relaxation. Expect well-appointed cabins, delicious dining options, and top-notch amenities.
3. Luxury expedition cruises are intentionally designed to be intimate affairs. These ships are smaller, carrying fewer passengers, which means you'll have a more personalized experience. You'll get to know your fellow travelers and the crew, fostering a sense of camaraderie that's hard to find on larger cruise ships.
4. One of the hallmarks of luxury expedition cruising is the presence of expert guides. These guides are often naturalists, historians, or scientists who provide in-depth knowledge about the destinations you visit. They lead excursions, share insights, and ensure that your journey is not just visually stunning but also intellectually stimulating.
5. Luxury expedition cruises also offer cultural encounters with indigenous communities and immersive cultural experiences. You can learn about their traditions, participate in local rituals, and gain a deeper understanding of the people who call these remote places home.
6. Many luxury expedition cruise operators are committed to responsible tourism and environmental conservation. They take great care to minimize their ecological footprint and often support local conservation efforts. So, when you embark on a luxury expedition cruise, you can feel good knowing that your adventure is contributing to the preservation of these unique ecosystems.
What to expect onboard a luxury expedition cruise?
1. Luxury expedition cruise ships are typically smaller, ensuring an intimate and exclusive atmosphere. Cabins and suites are designed with attention to detail and comfort. Many suites even come with private balconies for enjoying the view in solitude.
2. After a day of exploring, unwind in the cozy lounges and bars onboard. These spaces are designed for relaxation and socializing. Enjoy a cocktail while sharing stories with fellow travelers, or simply bask in the warmth of a fireplace as you take in stunning vistas through the panoramic windows.
3. Luxury expedition cruises prioritize your well-being. Many ships offer spa and wellness facilities where you can indulge in massages, yoga sessions, and other rejuvenating treatments. Imagine pampering yourself with a hot stone massage while surrounded by the beauty of the Arctic wilderness.
4. These cruises are not just about leisure; they're about learning. Many ships feature knowledge and learning centers where you can attend lectures, workshops, and presentations by expert guides and naturalists. Expand your horizons with fascinating insights into the destinations you're exploring.
5. To enhance your exploration, luxury expedition cruise ships are equipped with state-of-the-art gear. You'll have access to kayaks, Zodiac boats, snorkeling equipment, and more. These tools allow you to engage with nature up close, whether you're paddling through icy fjords or snorkeling in tropical waters.
Luxury expedition destinations
Not sure where to go on your Luxepedition cruise? Take a look at some of the amazing locations to visit!
Antarctica
The Arctic
Galapagos Islands
Amazon Rainforest
South Pacific Islands
Norwegian Fjords
Australia & Tasmania
Western Sahara
Guinea-Bissau
Faroe Islands
Easter Island
The Isle of Wight
Ready to learn more about Luxepedition cruising?
Whether you're seeking a thrilling adventure, a profound cultural experience, or simply a break from the everyday, luxury expedition cruising can provide it all.
To start planning your own Luxepedition, we invite you to reach out to us at Creating Magic Vacations. We'd love to chat with you about your dream expedition experiences and help you make it happen! Visit us online to chat: https://heather.social5.net/