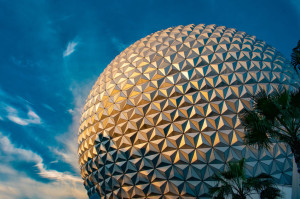 Are you ready to embark on a journey through one of the most captivating and immersive theme parks in the world? Since 1982, EPCOT at Disney World is where imagination, innovation, and cultural exploration unite to create an extraordinary experience for park-goers.
EPCOT, short for Experimental Prototype Community of Tomorrow, is a testament to Walt Disney's visionary dreams. Divided into four main sections, or neighborhoods—World Discovery, World Celebration, World Showcase, and World Nature—this unique park offers a fascinating blend of technological wonders and a celebration of global diversity.
In this blog, we aim to provide you with a comprehensive overview of EPCOT's history, main attractions, and what you can expect during your visit. Whether you're a first-time visitor or a seasoned EPCOT enthusiast, this guide will equip you with the knowledge to embark on an unforgettable adventure.
The history of EPCOT
EPCOT's story began with Walt Disney's ambitious vision for a utopian city of the future. Although his original concept for the Experimental Prototype Community of Tomorrow never came to fruition, it laid the foundation for the extraordinary theme park we know today.
In the early 1960s, Walt Disney envisioned a revolutionary concept that would combine innovative technology, urban planning, and community living. He aimed to create a futuristic city where people could live, work, and explore the latest advancements in science, technology, and culture. This idea was meant to showcase a harmonious coexistence between technology and humanity.
Unfortunately, Walt Disney passed away in 1966 before his vision could be fully realized. The Walt Disney Company, however, was determined to bring elements of his concept to life. EPCOT was subsequently reimagined as an experimental theme park that would embody Walt's vision of a utopian future.
On October 1, 1982, EPCOT Center (as it was originally called) opened its gates to the public. The park aimed to educate and entertain visitors, showcasing technological advancements and celebrating diverse cultures from around the world. Its distinctive geodesic sphere, Spaceship Earth, became an iconic symbol of EPCOT and an engineering marvel.
EPCOT initially featured two main sections–Future World and World Showcase. Future World initially focused on scientific innovation and exploration. It featured attractions such as Horizons, CommuniCore, and the World of Motion, each offering unique experiences related to communication, transportation, and future living. Over time, attractions evolved and changed to stay relevant with technological advancements, leading to the introduction of beloved experiences like the Imagination Pavilion and The Living Seas.
World Showcase, EPCOT's second major section, opened in 1982 with nine international pavilions. Each pavilion represented a specific country and aimed to immerse visitors in its culture, architecture, cuisine, and entertainment. The initial pavilions included Mexico, China, Germany, Italy, Japan, France, the United States, the United Kingdom, and Canada, and later, Morocco and Norway were added. World Showcase remains a unique celebration of global diversity and serves as a platform for cultural exchange.
The "new" EPCOT
Throughout the years, EPCOT has undergone significant transformations and expansions. Updates have been made to both Future World and World Showcase to keep the park fresh and relevant. Notable changes include the introduction of the Norway pavilion's Frozen Ever After attraction and the ongoing transformation of Future World into three new neighborhoods: World Celebration, World Nature, and World Discovery. These updates aim to further enhance the park's offerings and maintain its relevance in an ever-changing world.
World Celebration
As EPCOT continues its evolution, one of the most exciting developments is the introduction of the World Celebration neighborhood. This newly imagined area of the park invites guests to embark on a journey where dreams and imagination intertwine, creating a truly enchanting experience.
Though World Celebration is still under construction, it is expected to be complete by late 2023.
Some attraction highlights include:
Spaceship Earth: At the heart of World Celebration stands the iconic Spaceship Earth, EPCOT's symbolic geodesic sphere. As you step into this monumental structure, you'll embark on a captivating time-traveling odyssey through the history of communication, guided by a host of audio-animatronic figures. Spaceship Earth's newly enhanced narrative celebrates the power of storytelling and how it has shaped our world, inspiring generations to dream big.
Imagination! Pavilion: Within the World Celebration neighborhood of EPCOT lies a realm of boundless imagination and creativity—the Imagination! Pavilion. Step into this vibrant and interactive destination, where the power of imagination takes center stage (with Figment the dragon serves as your playful guide)!
World Discovery
Within the ever-evolving EPCOT, the World Discovery neighborhood stands as a testament to human curiosity, innovation, and the thrilling possibilities of the future. Prepare to embark on extraordinary adventures as you dive into the realms of science, technology, and space exploration.
Some attraction highlights include:
Mission: SPACE: Buckle up and get ready for an immersive space adventure like no other at Mission: SPACE. This thrilling attraction allows you to become an astronaut, experiencing the sensations of a real space mission. Choose between the intense Orange Team or the less intense Green Team, and embark on a simulated voyage to Mars. As you feel the g-forces and marvel at the wonders of space, Mission: SPACE offers an unforgettable experience that ignites your sense of exploration.
Test Track: At Test Track, you become a vehicle designer and test driver, pushing the limits of automotive innovation. Design your own virtual vehicle and put it through its paces on a high-speed outdoor track. Feel the adrenaline rush as you zoom through curves, maneuver extreme turns, and experience exhilarating acceleration. Test Track combines creativity, technology, and speed to deliver an unforgettable automotive adventure.
World Nature
Amidst the bustling excitement of EPCOT, the World Nature neighborhood provides a serene escape into the awe-inspiring wonders of the natural world. Discover the harmonious coexistence between humanity and the environment as you embark on a journey that celebrates the beauty, conservation, and sustainability of our planet.
Some attraction highlights include:
Soarin' Around the World: Prepare for an exhilarating journey as you take flight on Soarin' Around the World. This awe-inspiring attraction simulates a hang-gliding adventure, allowing you to soar above stunning landscapes and iconic landmarks across the globe. Feel the rush of wind, take in the scents, and witness breathtaking vistas as you're transported to destinations like the Great Wall of China, the Swiss Alps, and the African savanna.
Awesome Planet: Discover the beauty, diversity, and fragility of our planet in Awesome Planet, a remarkable film experience presented within The Land Pavilion. Through stunning visuals, immersive effects, and a powerful narrative, you'll gain a deeper appreciation for the Earth's natural wonders and the importance of preserving our environment. This captivating film reminds us of the impact we have on our planet and encourages us to take action for its conservation.
Journey of Water, Inspired by Moana: This highly anticipated attraction is slated to open in late 2023 and brings the beloved characters and the spirit of adventure from Disney's animated film "Moana" to life in a captivating and immersive experience. Guests will embark on a mesmerizing journey that celebrates the importance of water as a life-giving force and the interconnectedness of nature. Inspired by Moana's deep connection to the ocean, this attraction will invite visitors to explore a lush and interactive environment, where they can interact with magical water features and discover how water has the power to nurture and shape our world. Journey of Water promises to be a thrilling and educational adventure, delighting fans of all ages and reminding us of the beauty and significance of our planet's most precious resource.
World Showcase
At the heart of EPCOT lies the mesmerizing World Showcase, a neighborhood that immerses visitors in the rich tapestry of global cultures. Eleven pavilions, each representing a different country, transport you to far-flung corners of the world, where you can experience their unique traditions, cuisine, architecture, and entertainment.
The World Showcase international pavilions include:
Mexico Pavilion
Norway Pavilion
China Pavilion
Germany Pavilion
Italy Pavilion
The American Adventure
Japan Pavilion
Morocco Pavilion
France Pavilion
United Kingdom Pavilion
Canada Pavilion
Tips & Tricks for Visiting EPCOT
Visiting EPCOT at Disney World promises a world of enchantment and discovery. To make the most of your time in this captivating theme park, here are some valuable tips and tricks to ensure an enjoyable experience:
Plan Ahead: Take advantage of the My Disney Experience app and website to plan your itinerary, make dining reservations, and book Genie+ selections. This will help you optimize your time and ensure you don't miss out on any must-see attractions or dining experiences.
Arrive Early: To maximize your day at EPCOT, arrive early before the park opens. This allows you to beat the crowds and experience popular attractions with shorter wait times. It's also a great opportunity to take stunning photos in front of the iconic Spaceship Earth.
Use Genie+ Wisely: Make use of Genie+ selections to skip the regular queues for select attractions. Prioritize your must-do experiences and book Lightning Lanes accordingly. Be sure to book popular attractions like Test Track, Soarin' Around the World, and Frozen Ever After in advance, as they tend to have longer wait times.
Explore Future World in the Morning: Future World tends to be less crowded in the morning, so use this time to experience popular attractions like Spaceship Earth, Test Track, and Mission: SPACE. Save World Showcase exploration for the afternoon when crowds tend to disperse.
Food and Drink Delights: EPCOT is known for its diverse culinary offerings. Try unique dishes and beverages from around the world at the World Showcase pavilions. Consider making dining reservations in advance, especially for popular restaurants like Le Cellier Steakhouse (Canada) or Via Napoli Ristorante e Pizzeria (Italy).
Experience Nighttime Spectaculars: End your day at EPCOT with spectacular nighttime entertainment offerings. Catch "Harmonious" at World Showcase Lagoon or witness the mesmerizing fireworks extravaganza at select times. Find a comfortable spot in advance to secure a good view and create unforgettable memories.
Explore During Festivals: If your visit coincides with one of EPCOT's festivals like the International Food & Wine Festival or the Festival of the Holidays, take advantage of the additional entertainment, unique food booths, and cultural exhibits. These festivals offer even more opportunities to immerse yourself in the spirit of EPCOT.
Start planning your perfect EPCOT visit!
To ensure you make the most of your EPCOT adventure and your entire Disney World vacation, consider enlisting the help of a travel advisor with Creating Magic Vacations. These dedicated experts specialize in Disney travel and possess insider knowledge, allowing them to curate a personalized itinerary tailored to your preferences.
From securing the best dining reservations to providing tips and tricks for avoiding crowds and optimizing Genie+ selections, a travel advisor can take the stress out of planning, leaving you free to embrace the magic of EPCOT and all the other Disney parks. Let their expertise and passion for all things Disney transform your vacation into an unforgettable experience
If you're ready to start planning, just visit our website and click the "Plan Your Vacation" button! A friendly Creating Magic Vacations travel advisor will be in touch!