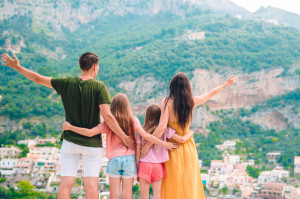 Stepping beyond the borders of the theme parks, Adventures by Disney offers an unparalleled travel experience, infusing the magic and wonder that Disney is renowned for into every destination. Of course, there are a lot of ways to see the world, but what sets Adventures by Disney apart is the incredible attention to what makes a vacation truly great. Every detail of an Adventures by Disney vacation is built to make your vacation hassle-free and leave you with unforgettable memories. You'll get knowledgeable adventure guides, authentic cultural encounters, stress-free travel arrangements, VIP experiences, insider access, and thoughtfully created itineraries that cater to the interests and enjoyment of family members of all ages.
Join us as we delve into six unique vacation experiences and discover why Adventures by Disney is the ultimate choice for those seeking a remarkable journey that combines adventure, exploration, and that unmistakable touch of Disney magic.
Land Adventures
When it comes to immersing yourself in the vibrant tapestry of cultures around the world, Adventures by Disney's Land Adventures stands in a league of its own. Designed to provide an enriching and authentic travel experience, these adventures go beyond mere sightseeing, allowing you to truly connect with the local traditions, flavors, and stories that make each destination unique.
Adventures by Disney's Land Adventures boast an impressive range of over 30 destinations across five continents. Each trip is guided by two expert Adventure Guides who become your personal storytellers, unlocking the secrets of each destination and ensuring that every aspect of your vacation exceeds expectations. The smaller group sizes, typically consisting of fewer than 45 people, create an intimate atmosphere where connections are fostered, friendships are formed, and magical memories are made.
Whether you dream of wandering the ancient ruins of Machu Picchu, exploring the majestic castles of Europe, or venturing into the wild landscapes of Africa, there is a land adventure perfectly tailored to fulfill your wanderlust.
River Cruises
Offering a delightful blend of luxury and exploration, Adventures by Disney river cruises provide a unique and immersive experience along some of Europe's most picturesque waterways. Drift away on the Rhine, Danube, or Seine rivers, where the magic of Disney seamlessly intertwines with the rich tapestry of European culture, history, and natural beauty. Aboard these floating sanctuaries, you'll uncover the wonders of iconic cities, quaint villages, and breathtaking landscapes while indulging in the finest amenities and personalized service that Adventures by Disney is renowned for.
Traverse the Rhine and be enchanted by the fairytale castles of Germany, or glide along the Danube as you witness the majesty of Vienna and Budapest. Delight in the romance of the Seine, with stops in Paris, Normandy, and beyond, where history comes alive with every step. From the stunning Cologne Cathedral to the charming windmills of the Netherlands, these river cruises offer an unparalleled vantage point to discover the heart and soul of Europe.
If you're looking for an extra unique experience, consider the various special-themed cruises, such as the enchanting Christmas Markets cruise, the Adult-Exclusive Oktoberfest experience, or the indulgent Food & Wine cruise.
Expedition Cruises
Unlike traditional cruises, expedition cruises are designed to take you off the beaten path and into the heart of remote and pristine locations. With a strong emphasis on exploration, these cruises offer opportunities to witness breathtaking landscapes, encounter remarkable wildlife, and immerse yourself in the wonders of the natural world. Adventurers who seek thrilling experiences, untouched wilderness, and a deep connection with nature will find expedition cruises to be the perfect pick.
Adventures by Disney's expedition cruises open up a world of awe-inspiring destinations that few have the privilege to explore. From the majestic icy realms of Antarctica and the rugged beauty of Patagonia to the enchanting Arctic landscapes and the unique biodiversity of the Galapagos Islands, each destination promises unparalleled natural wonders and extraordinary wildlife encounters. Picture yourself standing amidst a colony of penguins, observing the grace and power of polar bears, or swimming alongside playful sea lions. These expeditions grant you the chance to witness some of the planet's most captivating sights and create memories that will last a lifetime.
Private Adventures
Perfect for those seeking exclusivity, flexibility, and the opportunity to connect deeply with their travel companions and their destinations, Adventures by Disney's Private Adventures offers a truly intimate and unforgettable experience. Leave behind the constraints of traditional group tours and embark on a tailored adventure that caters to the desires and interests of you and your chosen companions. With Private Adventures, you have the opportunity to explore the world alongside a small group of up to 12 family and friends, creating unforgettable memories in an intimate and personal setting.
Private Adventures open the door to an array of exclusive destinations and activities that are not always accessible by larger groups. Imagine getting up close and personal with art at the Louvre or exploring the Greek Temple of Poseidon and Incan ruins without the crowds. These adventures provide extraordinary opportunities to connect with local cultures, indulge in authentic experiences, and forge deeper connections with the people and places you encounter along the way. From private guided tours to personalized dining experiences, each moment is thoughtfully curated to ensure an exclusive and unforgettable journey.
Private Jet Adventures
These exclusive and meticulously curated trips redefine the meaning of exceptional travel experiences. Private Jet Adventures is the ultimate Disney fan's vacation, allowing you to explore all 12 of Disney's worldwide parks with unparalleled ease and comfort. By opting for private jet travel, you'll enjoy the freedom of skipping long airport lines and the flexibility to effortlessly hop from one enchanting location to another. Adventures by Disney's Private Jet Adventures offer a level of luxury and convenience that will elevate your travel experience to new heights.
This 24-day extravaganza takes you on a once-in-a-lifetime adventure across six countries, where you'll have the incredible opportunity to visit all 12 Disney theme parks. As you traverse the globe, you'll also have the chance to explore three iconic landmarks that have captured the imagination of travelers for centuries: the majestic Taj Mahal, the awe-inspiring Pyramids of Giza, and the iconic Eiffel Tower. This exclusive itinerary grants you access to some of the world's most renowned destinations, creating an unforgettable journey that blends the magic of Disney with the splendor of global landmarks.
During your Private Jet Adventure, you'll enjoy a world of opulence and luxury that surpasses your wildest dreams.
From your VIP-configured private jet to 5-star hotels and luxury resorts in each destination you visit, you can be sure all accommodations will feature extensive amenities paired with world-class service. Throughout your journey on this VIP-configured private jet, you'll be accommodated in top-tier hotels and resorts that exude elegance and offer an exceptional level of service.
Escapes
Adventures by Disney's Escapes two- to five-day vacations are perfect for the traveler who needs a brief respite from the hustle and bustle or who wants to add some extra adventures to another adventure by Disney or Disney Cruise Line vacation. Choose from nine destinations across eight different countries, each offering its own unique charm and opportunities for peaceful exploration. And as always, expect the same amazing Disney magic, including outstanding accommodations, unique cultural experiences, insider access, expert guides, and hassle-free travel.
Adult Exclusives
For those seeking a more sophisticated adventure designed exclusively for adult travelers, Adventures by Disney's Adult Exclusives provide an extraordinary opportunity to indulge in grown-up experiences around the globe. These meticulously crafted vacations cater to adults aged 18 and over, offering a refined and elevated travel experience. With Adult Exclusives, you can expect a blend of cultural immersion, fine dining, exclusive activities, and the freedom to connect with fellow like-minded travelers in an atmosphere specifically curated for adults.
Whether it's exploring the enchanting vineyards of Tuscany, immersing yourself in the vibrant nightlife of cosmopolitan cities, or savoring culinary delights in the world's gastronomic capitals, these journeys are tailored to embrace the passions of grown-up adventurers. Enjoy curated experiences that delve into art, history, cuisine, and more, all while surrounded by the elegance and sophistication that adult-exclusive destinations provide.
Book your Adventures by Disney vacation today!
Adventures by Disney opens the door to a world of extraordinary travel experiences, allowing you to discover the perfect adventure for you and your family. From immersive land adventures and private escapes to enchanting river and expedition cruises and even luxurious private jet journeys, there is an adventure for every type of traveler.
If you're ready to book your dream trip, get in touch with us at Creating Magic Vacations and get the best deals and insider insights on Adventures by Disney. Our expertise and passion for Disney travel will ensure that your adventure exceeds your expectations. The adventure awaits—discover it with Adventures by Disney and Creating Magic Vacations!