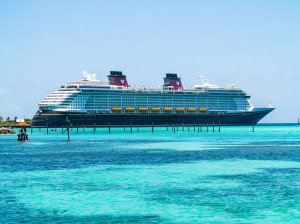 Disney Cruise Line is a name that needs no introduction for those who love the sea and the magic of Disney. This year marks the 25th anniversary of Disney Cruise Line, and the company is all set to celebrate in style. In honor of this silver anniversary, Disney Cruise Line has planned a host of special activities and events for guests taking a holiday on board. From incredible summer destinations to exciting merchandise, unique food, and more, there's never been a better time to cast off on a cruise adventure with Disney.
Disney Cruise Line's history
The Disney Cruise Line has been setting sail since 1998, with its first ship, the Disney Magic. The Disney Wonder joined the fleet in 1999, followed by the Disney Dream in 2011, and the Disney Fantasy in 2012. The company has continued to grow its fleet over the years, most recently adding the Disney Wish, which entered service in 2022.
The two original Disney Cruise Line ships were the first of their kind to be designed and built from the keel up with the specific goal of being family ships. And of course, each of DCL's ships has a special horn that plays the opening to the classic When You Wish Upon a Star theme from Disney's Pinnochio.
What can you expect for Disney Cruise Line's Silver Anniversary?
To mark its 25th anniversary, Disney Cruise Line will offer a range of delightful treats for guests onboard. Guests with special dietary needs can enjoy Mickey Mouse-shaped gluten-free waffles and other delicious food items. Additionally, guests can enjoy the limited edition merchandise with commemorative logos, including anniversary hats, t-shirts, and pins.
Special food
A celebration wouldn't be complete without some exciting new dishes! Vacationers on a Disney Cruise Line cruise this summer can expect Disney to have pulled out all the stops when it comes to their dining experience. Seafarers can indulge their sweet tooth with the new 25th Disney Cruise Line Cupcake or the Mickey Chocolate Sphere filled with candy pieces. If you're a fan of the many classic DCL desserts you've come to love, you can expect an extra enhancement on each of them this summer — a special 25th-anniversary chocolate piece! If you'd rather have a salty snack, DCL has you covered with their Silver Anniversary at Sea Popcorn Bucket.
Shimming Seas Collection
Ready to get sparkly? To celebrate the 25th anniversary, Disney Cruise Line has released an array of new, beautiful merchandise featuring ocean blues and celebration sparkles. Pick up the Loungerfly backpack and Mickey Ears headbands complete with the iconic captain's hat, a Disney Cruise Line charm bracelet, or a special edition long-sleeve Disney Cruise Line shirt featuring an aquatic ombre blue color scheme.
New membership tier for the Castaway Club
If you're part of the exclusive Castaway Club for returning guests with rewards and perks, you will become Pearl members this summer, enabling you to unlock new at-home and onboard exclusives!
Where can you travel?
From May to September 2023, Disney Cruise Line will celebrate its silver anniversary by visiting some of the most spectacular locations.
Board the Disney Magic and visit the Bahamas and Caribbean, including Castaway Cay, Disney's private island.
Board the Disney Wonder and depart on an Alaskan adventure visiting Juneau, Skagway, Ketchikan, and more.
Board the Disney Dream and take in the picturesque Mediterranean, Northern Europe, and the Greek Isles.
Board the Disney Fantasy and sail across the Eastern and Western Caribbean, each with a day at Castaway Cay.
Lastly, board Disney's newest vessel, the Disney Wish, and soak up the sun in Nassau, Bahamas, and Castaway Cay.
Which Disney Cruise will you go on this summer?
The 25th anniversary of Disney Cruise Line is going to be a magical celebration, with beautiful destinations and fun celebrations on the horizon. For lifelong Disney fans and those seeking new adventures, Disney Cruise Line is the perfect family vacation. The experience blends the magic of Disney with the wonders of the sea. Book your fantasy voyage today and sail away for a magical experience you won't forget!
Contact your Creating Magic Vacations travel advisor if you're ready to explore the high seas with your family. We can help create the perfect vacation for your family this summer. Visit us at https://heather.social5.net/ to talk to a travel advisor today!