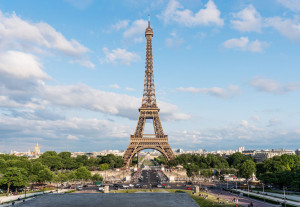 We've sent a fair number of people on Adventure by Disney trips, including Italy, the Galapagos Islands, Wyoming, the Canadian Rockies, and one of our favorites, the Southern California Disneyland adventure. These immersive trips are never short on adventure and fun, and every time we go on one we can really feel that Disney difference that elevates a vacation from something touristy to a true traveling experience.
That's why we are so excited to invite you to join us on an 8-day, 7-night Adventures by Disney trip to England and France this coming April! This is an EXCLUSIVE adults-only trip with everything you would expect from an Adventures by Disney experience, plus a few surprises from Creating Magic Vacations agents!
If you're sold already, head over to our sign-up link and register! If you'd like to learn more about what you can expect on this trip, keep reading.
The Disney Difference
When it comes to traveling the world, there's travel, and then there's Adventures by Disney. What sets Adventures by Disney apart is what we affectionately call "The Disney Difference." It's a unique blend of Disney's signature magic, attention to detail, and commitment to creating unforgettable experiences that make your journey truly exceptional.
Disney-Trained Adventure Guides
At the heart of every Adventures by Disney trip are the Adventure Guides – the storytellers, navigators, and companions who make your adventure come alive. These guides are not just experts in the destinations you'll visit; they're Disney-trained, which means they're experts in storytelling, customer service, and creating magical moments. They ensure that every step of your journey is not just enjoyable but also filled with the special Disney touch that makes memories that last a lifetime.
Authenticity
Adventures by Disney doesn't offer your typical tourist experience. Instead, it immerses you in the heart of the cultures and traditions of each destination. Whether you're exploring the historic streets of London or savoring the flavors of Paris, you'll find yourself connecting with the local people, traditions, and the authentic essence of each place you visit.
Insider Access
Imagine gaining access to hidden gems and exclusive experiences that most travelers can only dream of. With Adventures by Disney, you'll have opportunities that go beyond the ordinary tourist trail. It's not just about seeing the sights; it's about witnessing them in a way that leaves you feeling like a true insider. Think private viewings, behind-the-scenes access, and unique encounters that make your adventure unforgettable.
World-Class Service
Expect nothing but the best when it comes to accommodations, dining, and transportation. Adventures by Disney ensures that you travel in comfort and style, staying at outstanding accommodations and enjoying top-notch dining experiences. From the moment you arrive to the time you say goodbye, you'll be treated like royalty, all thanks to Disney's commitment to world-class service.
Magical Disney Touches
What would a Disney adventure be without a sprinkle of magic? Throughout your journey, you'll discover those enchanting Disney touches – surprises, special moments, and small details that turn an ordinary trip into an extraordinary one. It's those moments that you'll cherish and remember long after your adventure has ended.
Trip At a Glance
With an expertly crafted 8-day/7-night itinerary, you'll experience the magic of London, Paris, Windsor, and Versailles in ways that only Disney can offer.
Private Viewing of the Crown Jewels
Your adventure begins with a royal touch as you step into the historic Tower of London. Here, you'll have the rare privilege of a private viewing of the Crown Jewels, feeling the allure of these magnificent treasures. It's a regal start to your journey that sets the tone for the extraordinary experiences to come.
The Louvre
Crossing the Channel to France, your adventure continues in the City of Light – Paris. At the Louvre, you'll embark on a privately guided tour, taking in the museum's renowned collection, including a special visit with the enigmatic Mona Lisa. It's a chance to appreciate art and culture at its finest.
Private Early Access to Hampton Court Palace
In London, you'll explore the dramatic history and the private lives of Henry VIII and his wives at Hampton Court Palace. With private early access, you'll wander through the famous Tudor Court, experiencing the public dramas and intimate stories that unfolded within its walls.
Archery in the English Countryside
Venture into the picturesque English countryside for a unique experience – archery at a lovely country estate. Test your skills with a bow and arrow as you immerse yourself in the charm of rural England. It's a delightful detour from the historical sights, adding a touch of adventure to your journey.
Macaron Making at École Ducasse
Discover the art of macaron making at the world-famous École Ducasse. Attend a private workshop where you'll learn the secrets behind creating these delectable treats. It's a delicious way to delve into French culinary culture and take home a sweet souvenir.
Privately Guided Tour of Opera Garnier
Be dazzled by the grandeur of the Opera Garnier, a unique hybrid of royal academy and public theatre. With a privately guided tour, you'll explore this architectural masterpiece, appreciating its opulence and history. It's a cultural highlight that showcases the beauty of Paris.
Trip Details
Dates: April 29th – May 6th, 2024
Duration: 8 days, 7 nights (plus the option to add a Disneyland Paris at the end)
Your adventure includes everything you need for a stress-free journey:
14 meals: Savor the flavors of Europe with included meals featuring local cuisine.
Transfers: Enjoy hassle-free transportation to and from key destinations.
Accommodations: Stay in outstanding accommodations that offer comfort and luxury.
Extend the magic by adding on a Disneyland Paris extension.
There are limited spots available for this amazing trip! Don't miss your chance to be part of the magic!
If you'd like to register for your spot today, visit our sign-up link.
We can't wait to travel with you!